Will Ferrell rules UK box office with The Other Guys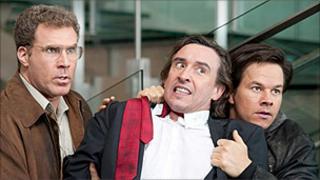 Action comedy film The Other Guys, starring Will Ferrell and Mark Wahlberg, has entered the UK and Ireland box office chart at number one.
The caper, which crowned the US cinema chart last month, made £1.98m in its first week of release.
It easily outperformed Devil, which landed at number two with more than £1m less in box office returns.
Resident Evil: Afterlife slipped to third spot after spending one week at the top of the chart.
There were no other new films gracing the chart, while Marmaduke and Diary of a Wimpy Kid climbed inside the top 10 to eight and nine respectively.
Police parody The Other Guys, which also features Steve Coogan, was written and directed by Ferrell's frequent collaborator Adam McKay.