Brass bands blow their own trumpets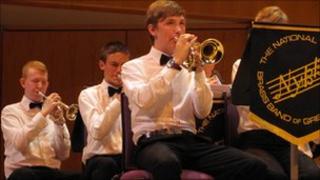 With the UK's top brass bands preparing to do battle at the national championships, the brass movement has shaken off its industrial image and is trying to bring in a new breed of musicians and fans.
"There is, for want of a better phrase, an image problem," concedes Philip Biggs, editor of the Brass Herald.
"People think brass bands and think of coal mines, cloth caps, marching down the street."
Those connotations are long out of date, he says. If it was good enough for Elgar, Vaughn Williams and Holst, who all wrote works for brass, it should be good enough for all serious music fans. "The repertoire is actually very, very rich."
At the recent Great Northern Brass Arts Festival, staged by Mr Biggs at Manchester's Bridgewater Hall, bands ranging from enthusiastic primary school groups to passionate, professional outfits gave a snapshot of the scene.
And while some see it as a nostalgic novelty, the musicians involved in the brass world's five football-style divisions are highly drilled and highly competitive.
This weekend, around 70 bands from the lower four sections will compete in the National Brass Band Championships of Great Britain in Harrogate, Yorkshire.
And around 4,000 people are expected when the Championship - the brass answer to the Premier League - holds its annual contest at the Royal Albert Hall in London on 9 October.
"People tend to think of a brass band and they think of something loud and playing marches," says Peggy Tomlinson, president of the Yorkshire and Humberside Brass Band Association.
"The brass band repertoire is as wide as any orchestral repertoire. You can find a brass band as emotionally rousing as someone else would listening to an orchestra. It can really tug at your heartstrings."
Beneath the highest ranks of competing bands, hundreds of groups get together in towns and villages across the country every week.
Many were traditionally attached to mines or mills, putting such bands in jeopardy when the UK's industrial landscape was swept away in the 1970s and 80s.
"At the time, bands did disappear," Mr Biggs says. "But brass bands are fairly resilient. That's come and gone now. They did what they had to do to survive, and survive they did, and they've come out the other side and I'd say things are looking pretty healthy now."
Now, bands survive by playing concerts and fundraising in their communities. Some raise enough money playing carols at Christmas to keep them going for the rest of the year.
Bigger bands may have local sponsors, play gala concerts or even go on international tours and record CDs.
The future of brass bands relies on new blood, and the question now is whether young people will want to pick up a trumpet or tuba above a guitar or an iPad.
Mr Biggs says the future looks bright, pointing to a "long, long" waiting list for the National Youth Brass Band of Great Britain.
"If you take youth bands across the country, I don't think they've ever been stronger and there are more of them," he says.
Yet, Mrs Tomlinson believes it is becoming increasingly difficult to persuade the next generation to join in.
"These days perhaps it's not so cool for a youngster to be blowing a cornet. It may be more cool to be playing a guitar," she says.
"But the youngsters that do take it up take a pride in what they're doing, and they're doing a valuable service to the community.
"They're learning music, they're learning social skills, they're going out and doing service for the community. Which is far better than a child just sitting at home playing computer games for hours on end."
Zoe Hancock, 19, from Cornwall, plays for Tredegar Town Band in south Wales, who won the British Open earlier this month, as well as being part of the National Youth Brass Band of Great Britain.
"I've grown from my feet hardly touching the floor to where I am now, and I've made so many good friends," she says.
"It's not cool in school, is it, to play a brass band instrument. But I picked it up and have never looked back."
Acid Brass
It is not only down to young musicians to embrace brass, according to friend and fellow National Youth Brass Band member Victoria Kennedy, 19, from Doncaster.
"I think it is dying out a little bit and support from parents is a massive thing," she says.
"That's what we're missing at the moment, because a brass instrument is a very noisy thing. You're coming home and learning it and it doesn't sound the best. Your parents probably don't want to listen to you for hours on end."
Some bands have tried to break out of the stereotype, attempting to push the musical boundaries and win new audiences.
In 1997, artist Jeremy Deller - who went on to win the Turner Prize in 2004 - collaborated with the Fairey Band in Stockport to play brass versions of acid house anthems under the name Acid Brass.
Miss Hancock's band recently played a big band show with a Michael Buble-style singer to a packed crowd, she says.
"We had all the music rearranged and it was a great concert with big lights and a huge audience. They love that kind of thing. So that's perhaps a different route for brass bands to try to modernise a bit."