Turner winner Mark Wallinger unveils cuts artwork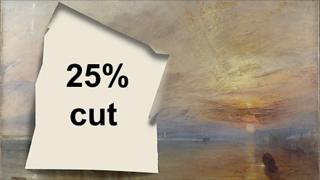 Turner Prize-winning artist Mark Wallinger has revealed a new work aimed at highlighting a campaign against proposed government cuts in the arts.
Wallinger's piece entitled Reckless shows Turner's 1839 masterpiece The Fighting Temeraire with "25% cut" appearing out of the slashed canvas.
New work from artists supporting the cause will be released every week until cuts are announced on 20 October.
Damien Hirst and Tracey Emin are among the Save the Arts backers.
Wallinger, who won the Turner Prize in 2007, said that cutting out an obsolete ship from the painting rendered it "wreckless", while he described the proposed cuts as "reckless".
The artwork also carries the caption "if 25% were slashed from arts funding the loss would be immeasurable."
The petition, which includes the signatures of Wallinger, David Hockney and the Chapman Brothers, will be sent to Culture Secretary Jeremy Hunt.
It contends that potential cuts could destroy the economic benefits a vibrant arts scene brings to the UK and could have a negative impact on existing art collections.
Chancellor George Osborne is due to announce the findings of the spending review on 20 October.