Hayden Panettiere to play jailed murderer Amanda Knox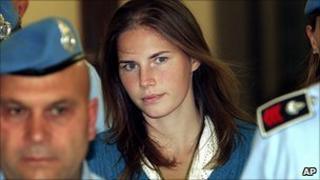 The story of US student Amanda Knox, who murdered her British housemate Meredith Kercher in 2007, is to be turned into a film.
Heroes actress Hayden Panettiere is to play Knox, who was sentenced to 26 years in jail in December for murder and sexual violence.
Her ex-boyfriend Raffaele Sollecito was jailed for 25 years. But mystery still surrounds the events in Perugia, Italy.
The film will be shown on US TV channel Lifetime next year.
The script is being written by Wendy Battles, who has worked on episodes of CSI New York and Law and Order.
The pair committed the killing with small-time drug dealer Rudy Guede, who was jailed for 16 years.
All three have maintained their innocence and have appealed against their convictions.
But judges who convicted Knox and Sollecito said the pair went to the house with Guede and took part in a sex attack that ended with Miss Kercher's throat being cut with a six-inch kitchen knife.
Knox and Sollecito then staged a fake break-in to make it look as though Miss Kercher was killed by an intruder, the judges concluded.
Her semi-naked body was found in a pool of blood.
Knox's odd behaviour after the body was found also aroused suspicions - she was reported to have performed a cartwheel and done the splits while waiting to be questioned by police.
Panettiere, 21, rose to global fame as indestructible cheerleader Claire Bennett in the hit TV show Heroes.