New official portrait of Queen unveiled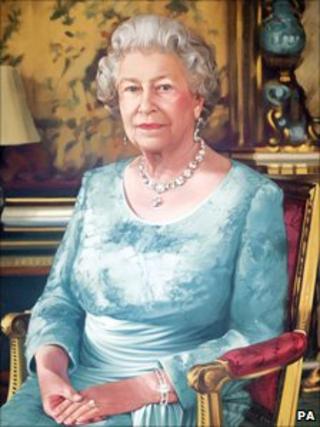 A new portrait of the Queen is being unveiled at the National Portrait Gallery before it goes on display on the latest Cunard cruise ship.
The portrait will be revealed by artist Isobel Peachey, 31, at the London gallery on Monday evening.
Peachey is believed to be the youngest woman to have painted an official portrait of the Queen.
The Queen will see the finished work for the first time on 11 October.
It will be during an official visit to Southampton when Her Majesty will name the new liner Queen Elizabeth.
The painting shows the Queen dressed in blue and wearing a Queen Victoria necklace and earrings that she also wore for her Coronation.
The portrait will then go on display in a prominent position in the ship's Grand Lobby.
Peachey said she was surprised to find out she would be painting the monarch.
"At my interview with Cunard, I answered many questions about how I would approach an important commission - but it was only at the end of the interview that the subject was revealed as the Queen," she said.
"This was both a shock and a marvellous surprise," she added.
Peter Shanks, Cunard's president and managing director, said Peachey was the youngest female artist to paint the Queen.
He described it as a "truly wonderful picture".
"It is even more remarkable when you consider that, lacking a private studio, she executed this magnificent painting in her mum's attic!"