Emma's Imagination wins Sky's Must be the Music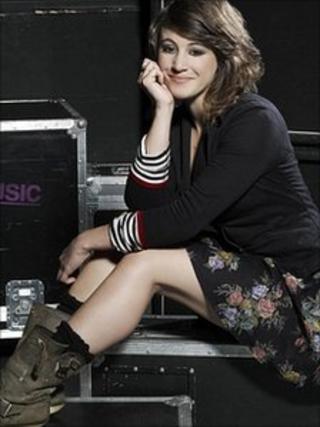 Scottish singer-songwriter Emma Gillespie has been voted the winner of Sky1 talent show Must Be the Music.
The 27-year-old street busker, who performs as Emma's Imagination, beat five other finalists to win the £100,000 prize.
Judges Dizzee Rascal, Jamie Cullum and Sharleen Spiteri praised the singer, calling her "a star already".
Gillespie told the 10,000 strong live audience at London's Wembley Arena she was "totally shocked" by her win.
The singer has already scored a top 10 single with her song, This Day, after being released on download last week.
After performing original song Focus during the show, the judges tipped Gillespie to win with Cullum calling her the "most complete artist" in the competition.
She beat Essex group Missing Andy and London band The Pictures in the final three to win the title.
But despite winning the £100,000 prize, Gillespie said she had not thought about what she would spend it on yet.
"I'm so overwhelmed I actually got to play at Wembley, so I'll probably have to take a couple of days for it to sink it," she said.
'Real artists'
Unlike other TV talent shows, contestants on Must be the Music sang their own material and semi-final acts had their songs released on download - many reaching the top 10 - and received 100% of the profits.
"I'm singing my own songs and there's no gimmicks or anything - it's just me and my guitar and that's what makes me different," Gillespie said.
Judge Spiteri added: "I think there's going to be a lot of young people who might have sniffed at the idea of doing this sort of programme, who might see this as a different opportunity as musicians. I think that's going to change everything."
Gillespie admitted she would not be rushing into signing a record deal.
"I've had some meetings and some interest but I've not signed anything yet. I'm just going to take my time and see what my options are and let it all sink in."
Dizzee Rascal said he would return to judge the show next year, if asked, as this series has produced "real artists".
However, he did say there was something he would like to see more of during the next round of auditions: "Rappers. Good ones."
Manchester duo Pepper and Piano, Irish teenager Daithi and 11-year-old harpist Hero also competed in the final.