Father Ted inspires Pope protesters' choice of placards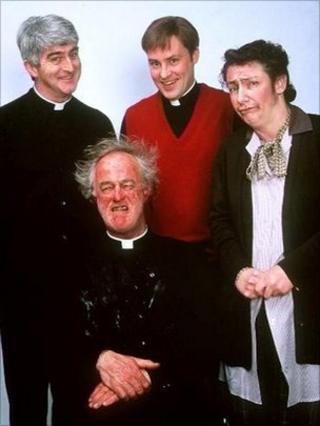 One of the creators of Father Ted has said he "couldn't be more proud" after anti-Pope protesters used placards inspired by the sit com.
On Thursday, one demonstrator in Edinburgh carried a sign reading "Down with this sort of thing".
The same slogan appeared on a placard carried by Fr Ted in the episode where the priest and his sidekick, Fr Dougal Maguire, are ordered by their bishop to protest outside their local cinema.
Graham Linehan, who co-wrote the series with Arthur Matthews, used the social networking site Twitter to speak of his pride and also posted links to pictures of the protest.
Father Ted, which was originally shown between 1995 and 1998, showed the exploits of three inept priests living on Craggy Island, off the west coast of Ireland.
In the protest episode, Bishop Len Brennan orders Fr Ted and Fr Dougal to demonstrate outside a screening of The Passion of St Tibulus, a film the church has deemed to be blasphemous.
'Silly laws'
The placard was reprised for the Protest the Pope demonstration which drew about 150 people to Lothian Road on the Pope's route across Edinburgh.
Mr Linehan, who is an honorary associate of the National Secular Society, also created the sitcoms Black Books and the IT Crowd.
He spoke out when the maximum fine for blasphemy in Ireland was raised to 25,000 euros last year.
The Irish government defended the move, saying it was constitutionally obliged to keep blasphemy laws on the statute books ahead of a planned referendum on the matter.
In an interview with New Humanist magazine, Mr Linehan said: "I suppose every country has odd, silly laws from the dawn of time that no-one ever got around to changing.
"What's unusual here is the attempt to actually bolster backward, backwoods thinking.
"It's very important to smack down every attack on free speech and secularism when they appear, because religious fanatics are getting louder and crazier and more violent, and capitulating only energises them," he said.