Hot Hot Hot star Arrow dies at 60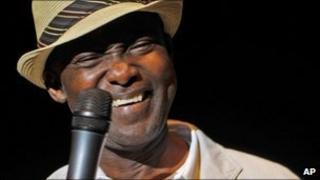 Soca musician Alphonsus "Arrow" Cassell, best known for his dancefloor anthem Hot Hot Hot, has died at the age of 60.
He died of complications from brain cancer at his home on the Caribbean island of Montserrat, his brother said.
Despite its earworm refrain - "Ole, ole, ole, ole, feeling hot, hot hot!" - Arrow's most famous song failed to make the UK top 40 on release in 1983.
A 1994 remix reached number 38, and the song remains a party favourite.
Arrow had one other UK hit with Long Time, which reached number 30 in July 1985.
Justin Cassell said Hot Hot Hot was the highlight of his brother's career and that he "took soca to all corners of the world".
In an interview with the AP news agency after Montserrat residents were forced to leave their homes following the eruption of the Soufriere Hills volcano in 1995, Arrow said: "Soca is dance - 'feeling hot, hot hot'.
"It makes you forget that there's a volcano and there's fun to be had."
In the 1980s, Arrow, who was considered Montserrat's most famous citizen, toured Africa, the US, Europe and Japan.