David Walliams up for Roald Dahl award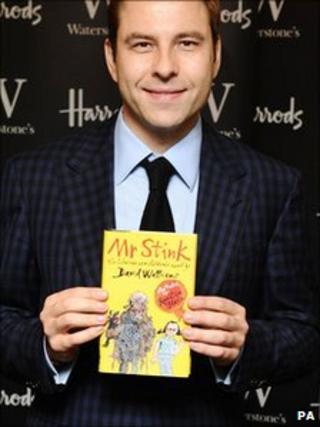 Little Britain star David Walliams has been shortlisted for the Roald Dahl Funny Prize for a second year running.
Mr Stink - about a smelly tramp - goes up against five other books in the seven to 14 category.
Last year's winner in the category was Grubtown Tales: Stinking Rich and Just Plain Stinky, by Philip Ardagh.
Dahl artist Quentin Blake is nominated in the six and under section for Angelica Sprocket's Pockets. Winners will be announced on 17 November.
Blake also illustrated Walliams' Mr Stink as well as the comic actor's 2009 nomination, The Boy in the Dress.
Also nominated for the £2,500 prize this year are books about a dancing dog, a walking fish and Einstein's underpants.
Comedian Shappi Khorsandi, part of a judging panel that includes last year's winner Philip Ardagh and awards founder Michael Rosen, said the quality of books "reminded me how I came to love reading in the first place".
Former Children's Laureate Michael Rosen said this year's books were "a bumper crop of fantastically funny stories".
"If you want giggles, laughs, roars and riots, these are the books for you and your children," he added.
The full shortlist in the six and under section is:
Angelica Sprocket's Pockets - Quentin Blake
Dogs Don't Do Ballet - Anna Kemp, illustrated by Sara Ogilvie
Dog Loves Books - Louise Yates
The Nanny Goat's Kid - Jeanne Willis, illustrated by Tony Ross
One Smart Fish - Chris Wormell
The Scariest Monster in the World - Lee Weatherly, illustrated by Algy Craig Hall
And in the seven to 14 category:
The Clumsies Make a Mess - Sorrel Anderson, illustrated by Nicola Slater
Einstein's Underpants and How They Saved the World - Anthony McGowan
The Incredible Luck of Alfie Pluck - Jamie Rix, illustrated by Craig Shuttlewood
Mr Stink - David Walliams, illustrated by Quentin Blake
The Ogre of Oglefort - Eva Ibbotson
Withering Tights - Louise Rennison