Recyled music concept wins PRS new music prize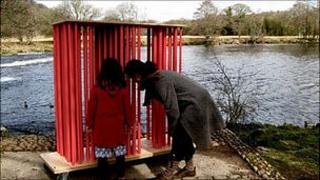 Recycling existing sounds to make a completely new noise is the winning concept of the PRS new music award.
The Organ Of Corti was put together by group Liminal, made up of composer David Prior and architect Frances Crow.
The PRS for Music Foundation - which is behind the prize - has awarded them £50,000 to develop the project.
The award goes to the most groundbreaking idea for a new musical work.
The Organ of Corti has been dubbed "a piece of sound art" which will collect and recycle sounds from the atmosphere.
Once it has filtered the sounds, the output will be completely unrecognisable and changed into a completely different sound collage.
The idea behind it is to make people listen "differently to what is there in a sound-saturated world".
Sonic crystals will be used to filter and transfigure the noises and it will premiere at the City of London Festival in July 2011.
Three further performances will then take place in various places across the UK.
The idea was selected by a panel of expert judges and was chaired by The Guardian's chief arts writer Charlotte Higgins.
The concept beat a shortlist which included an idea to allow people to create their own "satellite symphony" through an iPhone app and an entry that would create automatic musical instruments which can be played by audience members.
The PRSF is the UK's largest independent funder of new music across all genres and has its roots in PRS for Music (formerly the Performing Right Society).
The biennial new music prize began in 2005.