'Blue Jesus' wins painting prize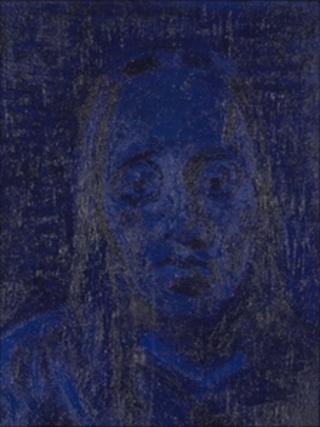 A dark blue painting of Jesus Christ by Keith Coventry has won the £25,000 John Moores Painting Prize.
Coventry, best known for taking part in the controversial late 1990s Sensations exhibition alongside Tracey Emin and Damien Hirst, won for Spectrum Jesus.
He triumphed almost 30 years after first entering the competition as a student at Chelsea School of Art.
Previous winners of the prize, awarded every two years, include David Hockney, Peter Doig and Richard Hamilton.
This year, almost 3,000 paintings were submitted. The judges included Turner Prize winner Gary Hume and Sir Norman Rosenthal, who was exhibitions secretary at the Royal Academy for 30 years.
Sir Norman described the John Moores Prize as "the Oscar of the British painting world".
Keith Coventry began his career hosting exhibitions in a squat in London because he could not get into conventional galleries.
Spectrum Jesus is one of a series of around 50 paintings, which are identical except for the colour.
The depiction of Jesus is a copy of an image painted by notorious art forger Han van Meegeren, who passed his works off as those by the Dutch master Vermeer.
Coventry said he was not religious but decided to tackle a Christian image because it had become "very unfashionable" to do so.
"It's just that very few people I know deal with religious subject matter and I thought it would be an unusual thing to do to take a religious image and turn it into a large installation piece," he told BBC News.
The win, three decades on from his first attempt, felt like "something that had to be achieved", he said.
The painting has been bought by the Walker Art Gallery in Liverpool, which is also hosting an exhibition by the shortlisted artists, with the help of The Art Fund.
Reyahn King, director of art galleries at National Museums Liverpool, described it as "a fascinating painting by an artist of intellectual depth".
The prize was handed out as part of the Liverpool Biennial, the UK's largest festival of visual art, which opens on Saturday and runs until 28 November.