Derren Brown train stunt investigated by Ofcom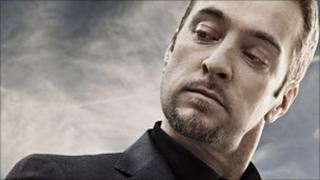 Ofcom is investigating illusionist Derren Brown's latest show over a scene which showed a man in a straitjacket, chained to a rail track.
The Channel 4 programme, Hero at 30,000 Feet, followed a volunteer with an "unconfident character" as Brown built up his courage, enabling him to take on a series of personal challenges.
The scene in question saw him escape from an oncoming train.
Ofcom received 11 complaints from viewers about the safety of the stunt.
The media regulator is investigating the show, broadcast on Wednesday, 8 September, to see if it breaches broadcasting regulations.
It will consider whether the scene "condones or glamorises violent, dangerous or seriously anti-social behaviour and is likely to encourage others to copy such behaviour" or breaches "generally accepted standards" in broadcasting.
The programme culminated in the subject, Matt Galley, facing "a life-changing decision of whether to take control of a Boeing 737 packed with passengers, which he believes is about to fall out of the sky".
In reality, he was moved from a real-life aeroplane to a flight simulator after being put under hypnosis by the illusionist.
A spokesman for Channel 4 said: "The railway track challenge was one of many confidence-building experiences within the show which prepared Matt for the finale.
"For all the experiences, the programme-makers have procedures in place to ensure the contestant's welfare is protected.
"We would never recommend that viewers recreate any of the events in the programme."