Danny Boyle film 127 Hours wows critics in Toronto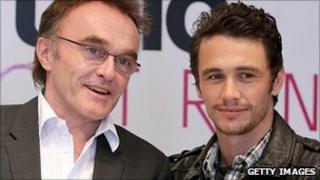 Director Danny Boyle's follow-up to the Oscar-winning film Slumdog Millionaire has received positive reviews, amid reports it caused some people to faint.
The movie, 127 Hours, recalls the true story of Aron Ralston who was forced to amputate his own arm after getting it trapped whilst out climbing.
Tom Charity wrote in Time Out magazine that the film is "simply unmissable".
However, it is thought the amputation scene caused some discomfort for some at the Toronto Film Festival.
It shows Mr Ralston breaking his arm and using a blunt knife to cut through his flesh.
Computer-generated shots are used to take the audience under the skin, where the blade can be seen knocking against the bone.
John Foote, critic for film industry website The Wrap, said: "The sequence is never gratuitous, just very realistic, gruesomely so, and because we have grown to care so much about the character, all the more unsettling and raw.
"I cannot remember a reaction to a film like this in a very long time, perhaps not since The Exorcist sent audiences scurrying for the doors (though much of that was later said to be a publicity stunt)."
The Independent's Kaleem Aftab said: "It is the only scene from which viewers might wish to avert their eyes."
But he added that the film would help cement Boyle's place as "one of the best British directors working today".
The adventurer, who is played by Spider-Man actor James Franco, survived his ordeal despite having to climb down a 65ft wall after the amputation and hike for miles to get help.
Time Out's Tom Charity added that the whole movie is a "total rush, building towards a wrenching climax you won't soon forget".