Talking Shop: Isy Suttie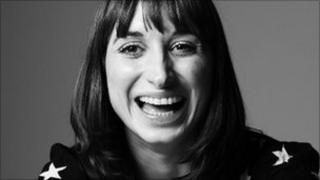 Musical comic Isy Suttie is best known for playing Mark's love interest, Dobby, in cult Channel 4 comedy Peep Show.
The comedienne, from Matlock in Derbyshire, has just begun her first national tour with one-woman musical character show Love Lost in the British Retail Industry.
Suttie, 32, who is about to appear in new BBC Two sitcom Whites with Alan Davies, talks about Peep Show fans, being sick in her shoes and skinny dipping.
Is it harder being a musical comedian because there's more to remember and more things that can go wrong?
Not really. I've been playing guitar for quite a while, since I was about 10 or 11 - I know a lot of the main chords inside out so I don't worry too much.
I've never thought that it's harder being a musical comic.
I have to be honest, I can't do anything else anyway so, if I didn't do this, I don't know what I'd do.
How would you describe Love Lost in the British Retail Industry?
It's set in Somerfields, in Matlock, which is where I used to work for a bit when I lived there.
It's about a check-out girl called Lisa who kind of falls in love with a shelf stacker called Karl and they go on a date but everything goes a little bit wrong.
I quite like to think of it as half panto/half Dead Man's Shoes, which is a Shane Meadows film set in Matlock.
So there's elements of darkness to it but, on the whole, it's quite hopeful.
Is it more or less nerve-wracking playing characters than going on stage as Isy Suttie?
It's less nerve-wracking in a way because you sort of feel like they're your friends - some characters more than others. There's this American character that I do and she's so different from me that I do kind of feel like she's a friend.
What was it like stepping into a popular programme like Peep Show?
I was a fan of the show. I felt really, really excited and also really nervous that I'd mess it up.
And I had no idea whether I'd done all right or not and then it came out. I was really glad that enough people liked the character enough to keep her in.
How did fans of the show react to you?
I had some marriage proposals - one in a pub, one through MySpace.
Oh, and there was this guy who messaged me on MySpace saying he wanted a photo of my hands but in gloves immersed in water. I've never owned a camera - I don't really like or understand technology.
I was going to reply, 'I haven't got a camera', but then I thought he'll probably offer to come around and take it so decided I'd better not say anything.
Does your character, Dobby, get it on with Mark?
I'm not allowed to say, I'm really sorry.
The series is at a very early stage - I've only done a few days on it and I've still got the majority of my days to go.
It should be on before the end of the year so I think they're going to edit it quite quick.
And you're about to appear in another sitcom, Whites.
That's all in the bag and that starts on 27 September on BBC Two.
It's written by Matt King, who plays Super Hans in Peep Show, and another guy call Oliver Lansley and they're both good mates now.
How did your job as a comedy consultant on Skins work?
Skins was brilliant - I did two series. It's written quite collaboratively and you have a group of people in a room and you go through the storyline and you kind of talk quite openly about what should happen to the characters.
I was really lucky that Skins took me on because at that point I hadn't really written anything for telly.
What would be your dream job?
I've always wanted to write a musical sitcom or a sitcom that had music in it but producers are often a bit like, 'no, it's too much of a risk'.
So, for many years, I've been trying to work out a way of making it more approachable for commissioners.
I understand it's a risk. I think Flight of the Conchords has helped.
At the moment, I'm writing a TV pilot called Burger Days.
It's really early stages but it's about me and a friend who work in a burger bar in a service station and it's about their lives.
And I'm trying to develop a film, me and [fellow comedian] Tom Basden.
I'd quite like to be in a British film so if anybody's reading this like, for example, Shane Meadows, just give me a line.
In an interview you did in 2001, you recounted the story of being sick in both of your shoes after a drinking session. Have things calmed down since then?
2001 was like my zenith.
Hang on, oh I went skinny dipping in the sea this year with my mates from college on New Year's Day. We were in St David's, in Wales.
We were supposed to have a drinking weekend that would have ended in something like being sick in my shoes.
But we all caught the norovirus in this farmhouse in the middle of nowhere - it was a nightmare.
Then we were all better on New Year's Day and we had to have New Year's Eve on New Year's Day.
I felt really old and I'd been going, 'I don't do anything rock 'n' roll anymore, I'm so square now, everyone's having kids, it's so boring'.
And then we all went down to the beach and my mate was like, 'I thought you said you weren't rock 'n' roll anymore'?
And I was like, 'I'm not going skinny dipping', and my mate was like, 'you just said'.
Typical me. I said, 'all right', and I know why I didn't want to - it was really cold.
When I had the norovirus, I never thought I'd have to prove my feelings.
Isy Suttie was talking to BBC News entertainment reporter Liam Allen.