Stephen Fry assumes theatre charity role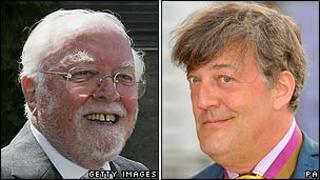 Writer Stephen Fry has become chairman of a charity trust set up to protect an historic West End theatre in London.
The 53-year-old inherits his role at the Criterion Theatre Trust from Lord Attenborough, the previous chair of the registered charity set up in 1992.
Fry said he was "insanely excited and honoured to take up this new position."
The Criterion - situated next to the Eros statue in Piccadilly Circus - has been a West End fixture since it first opened in 1874.
The theatre was acquired in 1992 by property developer Robert Bourne and his wife Sally Greene, the Criterion's chief executive.
"I couldn't be more proud and pleased to take over the chair vacated by the inimitable Lord Attenborough," Fry continued.
"Between them, he and Sally Greene have ensured that one of the absolute jewels of the West End is in a marvellous position to grow and flourish into the 21st Century."
Greene said Fry's "extraordinary and limitless talents" would be an asset to the theatre, which is currently home to a production of The 39 Steps.
The announcement coincides with the publication of The Fry Chronicles, the comedian's latest volume of autobiography.