Lost Sean Connery TV footage found in US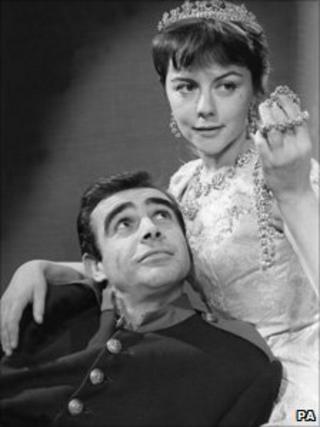 Lost TV footage of actors including Sir Sean Connery, Leonard Rossiter and Dame Maggie Smith has been found in the US.
The tapes, which date from between 1957 to 1969, were found by an American researcher in the Library of Congress in Washington DC.
The 65 recordings have now been given to the British Film Institute (BFI).
"This is by far the largest and most significant collection of programmes we have found," said BFI curator, Steve Bryant.
The tapes originally belonged to Public Broadcasting Service WNET New York, which broadcast them after they had been shown in the UK on BBC or ITV.
Selected highlights from the collection will be shown at the BFI's annual Missing, Believed Wiped festival in London on 7 November.
The Missing, Believed Wiped campaign, which aims to recover lost treasures of British television, has been running for 17 years.
Most of the programmes from the latest find are adaptations of literary works, including those by Shakespeare, Chekov and Ibsen.
The tapes include footage of Jane Asher in a version of Romeo and Juliet, Sir Sean and Dorothy Tutin in Colombe, Sir Derek Jacobi, Robert Stephens and Dame Maggie in Much Ado About Nothing, and Leonard Rossiter and John Le Mesurier in Dr Knock.
The BFI celebrates its 75th anniversary this year.