Ben Barnes back on stage in Birdsong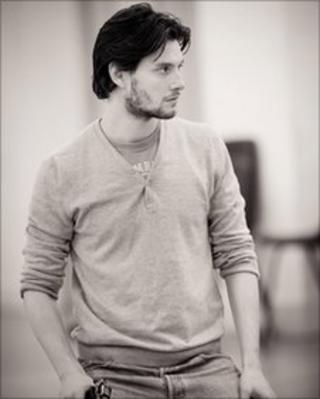 "It's one of about three books ever that's made me physically weep."
Ben Barnes adopts a cross-legged position on the bed in the corner of his dressing room in the depths of London's Comedy Theatre.
It is the final few days of rehearsals for Birdsong - a play based on Sebastian Faulks's best-selling novel about one man's journey through the horror of World War I.
On a clothes rail next to Barnes's bed hangs the freshly-laundered uniform of a British army officer. In the play, he takes the lead role of Stephen Wraysford, a young Englishman whose story begins in pre-war France in 1910.
"I read the book about five years ago. It was around the time that I was getting serious about being an actor," says Barnes.
"When you read something like that and the character is in your age range, English with dark hair and dark eyes, you obviously put yourself in that character's shoes."
He recalls the first time he met author Sebastian Faulks.
"He looked at me a bit confused, and said it's nice to finally meet. I asked him what he meant and he said 'You look exactly how I imagined Stephen when I wrote it 15 years ago'. He was obviously a bit weirded out by it."
The stage version has been penned by Rachel Wagstaff, with Trevor Nunn directing. Alongside Barnes, the cast includes Nicholas Farrell (Chariots of Fire), Iain Mitchell (La Cage Aux Folles), Genevieve O'Reilly (Spooks) Lee Ross (EastEnders) and Zoe Waites (The Other Boleyn Girl).
By way of preparation, Barnes and other cast members visited the Imperial War Museum to research the period. He's also been sent letters from people whose relatives who were involved in the war.
"It's amazing how many people have tapped into this book as something that feels very personal to them, even though it's fictional."
Birdsong isn't the only West End play to tackle life and death in the trenches. It follows the stage success of War Horse - based on the book by Michael Morpurgo - which is currently being filmed by Steven Spielberg.
Birdsong has yet to make it to the big screen. Barnes explains: "I'd auditioned for Birdsong when they tried to make a film of it a couple of times, and it was close at least once. Unfortunately they've never quite been able to get all the ingredients together."
This stage version sees Barnes back in a theatrical role for the first time since The History Boys - four years ago.
In the meantime, he's established a Hollywood career in fantasy films like Stardust, Prince Caspian and Dorian Gray.
So why return to the West End now?
"It feels like the right decision," says Barnes. "I took a trip to Los Angeles just before I got this job and I was looking for an American movie. Then this came along and something clicked."
Even as a teenager, the young Ben Barnes was attracted by the bright lights of theatreland. Aged 16, he played drums in the stage musical Bugsy Malone.
"It was at the Queen's Theatre just five mins from here," he laughs. "It was one of the best periods of my life as I got to leave school early on a Wednesday. I had this secret life as a jazz drummer in the West End!"
Caspian returns
Barnes is back on the big screen later this year - in 3D - when he reprises his role as Caspian in new Narnia adventure The Voyage of the Dawn Treader. It has been chosen for this year's Royal film gala in November.
"All I know is I have to do Birdsong that evening, so I'll have to find a way of doing the red carpet and then running here," says Barnes.
He also stars in Killing Bono - a forthcoming film based on the memoirs of music writer Neil McCormick, who went to school with a boy called Paul Hewson - better known as U2's Bono.
"It's a perfect project for me," enthuses Barnes. "I play a completely ridiculous wannabe 80s Irish rockstar who went to school with Bono and told U2 that he was going to be the biggest star in the world."
He adds: "It was the first script I'd ever read where I laughed on every page."
In other words, the polar opposite of Birdsong.
Or as Barnes puts it: "There were tears in the rehearsal room and I think there are going to be tears in the theatre every night. It's just of those stories that starts to get a hold of you."
Birdsong previews at the Comedy Theatre from 18-27 September and runs 28 September - 15 January 2011.