OMG its OMD!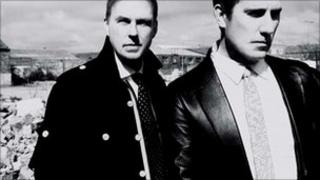 "There's nothing worse than a bunch of 50-year-old men making a terrible record."
Fighting words from Andy McCluskey, the lead singer of Orchestral Manoeuvres In The Dark who, at the age of 51, has just made a new record.
So he has a lot to prove with History Of Modern, the first album by OMD's original line-up since 1986's The Pacific Age.
The timing seems right. OMD were pioneers of the synthtastic 80s scene, making records like Enola Gay using keyboards with less processing power than a vending machine.
As such, they are direct influences on 80s revivalists like La Roux, while their pop boffin experiments are being recreated in the labs of LCD Soundsystem and Hot Chip.
'Dangerous animal'
"We are sufficiently aware to see the strangeness of it," laughs McCluskey.
"You've got a bunch of kids who are the same age as my eldest child, tipping their hats to OMD and saying we're cool."
Cultural relevance is no excuse for rehashing former glories, though - and McCluskey is wary of looking like a desperate pop granddad.
"It's one thing to play to people who are going, 'Oooh, I can't wait to hear Enola Gay,'" he says. "It's a much more dangerous animal to take on a new record.
"And, let's be honest, most bands of our generation really shouldn't."
He won't name names - but derides bands who release a new album "just to give their tour a name" or rehash their old material "with a half-asleep cabaret vibe".
Early reviews suggest that the reformed OMD - who toured for three years before committing new material to tape - have avoided those pitfalls.
Q Magazine awarded their comeback, History Of Modern, four stars, praising its "rattling pop tunes", while lead single If You Want It made Radio 2's daytime playlist.
The title track refers to the band's "position in the pantheon of music", although it is far from the subjective re-writing of history that statement suggests.
"All that's certain runs aground," McCluskey intones in his constricted tenor. "More is lost than had been found".
What prompted this downbeat assessment of an internationally successful career - including Germany's biggest-selling single of 1982, Maid Of Orleans?
"The thing is," McCluskey begins, "we didn't want to be pop stars in order to have a career and tour around the world.
"The real reason we were doing it was because, in our own juvenile, precious and misguided way, we believed were going to change the world."
So when the planet failed to drop off its axis, McCluskey had "a big psychological crash".
"We'd done three albums and sold millions and I suddenly thought, 'What have we actually changed?'"
"You realise that what you grow up believing - that new, interesting, modern music is going to be important and ground-breaking and dramatic - wasn't enough.
"So then we radically went and did an album called Dazzle Ships, that was extremely political and really hard to listen to and the whole world went, 'Ehh - no thanks!'
"So that was a bit of a shock. We bounced off both sides of the wall, there, really."
Oil refineries
Big ambitions were a hallmark of the era - and OMD made a big splash in the US, along with contemporaries like Duran Duran and Eurythmics.
OMD were always more intellectual, however, writing songs about atomic weapons (Enola Gay), public telephone boxes (Red Frame/White Light) and genetic engineering (Um... genetic engineering).
"We were fascinated by weird German music and writing songs about aeroplanes and oil refineries," McCluskey says.
"Nobody was more surprised than we were when we actually started to sell records."
"I wanted to be an archaeologist - how did I end up on the front cover of Smash Hits?!
So what are the big topics on the band's new album?
New Babies, New Toys talks about manufactured pop (McCluskey isn't a fan, despite having inflicted Atomic Kitten on an innocent public).
History Of Modern pt I, however, is more standard OMD material.
"Like all good pop songs, it ended up being about the end of the universe, when everything is erased, but whether there's sufficient matter in the universe for gravity to draw it back together again and create a new big bang.
"I know I'm treading on old ground, there."
McCluskey still has plenty to say, then, and anyone who has seen him "beat the crap out of the bass guitar" (his words) at the band's recent gigs can attest to the fact that the group have rekindled the fire in their bellies.
But have they fulfilled their ambition of recording an album worthy of comparison to OMD's career best, Architecture and Morality?
"We're very proud of the new record," he says, "but we're aware we're not going to sell what we used to sell."
"But, unlike other bands, we're not going to default on our mortgage payments if nobody buys it."
History Of Modern is out on 20 September.