Invasion of the Body Snatchers actor dies aged 96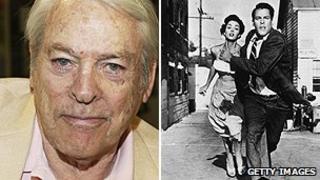 US actor Kevin McCarthy, best-known for his role in the 1956 film Invasion of the Body Snatchers, has died aged 96.
The veteran character actor died of pneumonia at Cape Cod Hospital in Massachusetts, the Washington Post reported.
McCarthy appeared in more than 50 films and received an Oscar nomination for his role in 1951's Death of a Salesman.
But he is best remembered as the doctor trying to save his friends from alien "pod people" in the sci-fi classic.
Born in Seattle in 1914, McCarthy's acting career took off in 1938 with his Broadway debut as Abe Lincoln in Illinois.
He became an early member of the Actors' Studio and in 1949 starred as Biff, the son of Willy Loman, in the London production of Arthur Miller's Death of a Salesman - before reprising the role on film.
The actor also worked frequently on television, appearing in TV movies and series such as The Survivors and Flamingo Road.
He also appeared in episodes of long-running shows including The A-Team, The Golden Girls and Tales from the Crypt.
In 1978, he began touring in the one-man show Give 'em Hell, Harry, playing former US president Harry Truman. Over the years, he appeared as Truman in 350 venues.
McCarthy's other films included A Gathering of Eagles, The Best Man, Mirage, The Howling, Twilight Zone - The Movie and InnerSpace.
He also appeared as Marilyn Monroe's estranged husband in her last movie, 1961's The Misfits.
He originally turned down the role when director John Huston approached him, complaining that it was too small.
"I finally said I would do it if they paid me $100 (£65) a word," McCarthy recalled in 2003. "Turns out I had 29 words - I should have asked for more."
McCarthy is survived by his wife and five children.