3D films boost UK box office by 8%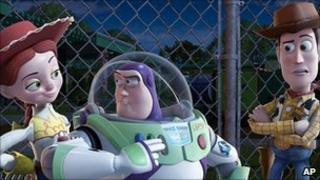 Films in 3D, such as Toy Story 3 and Alice in Wonderland, have helped boost UK box office takings by 8%, compared to figures from last year.
The Film Distributors' Association said that £786m was generated between January and August.
Three of the top five films were in 3D, helping to boost revenue as tickets are more expensive.
The top five was completed by Twilight Saga: Eclipse, Inception and Shrek Forever After.
"Easter was sensationally strong, we had a little bit of dip around the World Cup, and came back very strongly in July and August," said FDA chief executive Mark Batey.
"The reason why cinema has drawn such huge crowds over these periods is first and foremost because of 3D."
Toy Story 3 has now been seen by more than 10 million people and, in terms of box office, it is the UK's number two film of all time, behind Avatar, which was released last year.
Between now and December, 13 movies in 3D are expected to be released, which include Harry Potter and the Deathly Hallows: Part 1, Saw VII and Gulliver's Travels.
The FDA has unveiled a trailer showcasing some of the 100 or so films set to be released between now and Christmas.
Of the 3,650 screens in the UK's 725 cinemas, around 700 have digital projection systems, most of which can show films in 3D.
Tickets for 3D films are generally priced higher than their 2D counterparts, beginning at around £7 but rising as high as £17 in some West End cinemas.
That compares to an average ticket price of £5.44, according to the Cinema Exhibitors' Association.
"3D tickets are a little bit more expensive, but the production process all the way through is more expensive, and the experience is better," said Mr Batey.
2009 was a bumper year for UK cinemas, with total takings of £944m and the highest admissions since 2002 (173.5 million).
In 2010, the 100 million mark was passed in the last week of July.
The year's peak came over Easter week (2-8 April), when more than 7 million people went to the cinema.
The top films that week were Clash of the Titans, How to Train Your Dragon (both in 3D) and Kick-Ass.
The FDA, which represents most of Britain's film distributors, says that on average people go to the movies three times a year.
"On the whole people are cherry-picking their films," said Mr Batey.
"Three visits per person a year really isn't that many. We think that this autumn is the time for an extra visit or two. The first part of the last Harry Potter film is going to be something really special."