Dame Helen Mirren on role reversal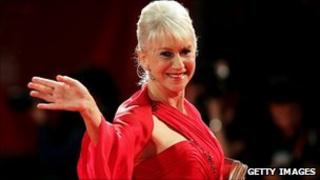 Veteran actress Dame Helen Mirren has played most of Shakespeare's leading female characters on stage, but her latest role in the film version of The Tempest is a new challenge.
The 65-year-old plays the traditionally-male lead part of wizened sorcerer Prospero, who is renamed Prospera for the movie, directed by Julie Taymor.
"I'd been to see a stage version of the play and I remember thinking that, with a little alteration of the back story, it would be easy to make Prospero into a woman," Dame Helen says at the movie's world premiere at the Venice Film Festival.
"All you would have to do to change 'his' into 'her' and you could perform it as it is."
The star says the idea came about after a chance meeting with Taymor - best known for adapting The Lion King for the stage - where the pair discussed possible projects together.
It was then that Dame Helen put forward her idea about changing the gender of Prospero.
"Fast forward two years later and Julie calls me up and asks if I am free [and] that she is going to direct The Tempest, and wants me to be a female Prospero," she says.
"I thought she meant in the theatre, and then she explained she had the funding to do a film version.
"I thought 'oh my God,' because on the stage you can be a lot more experimental, but in film pulling it off was going to be a lot more challenging. But I was still really, really excited."
Filming took place on the lunar - rather than the idyllic - setting of an Hawaiian island.
The audience can see Dame Helen striding across the landscape - a rage-filled Duchess bent on restoration after being exiled from Milan with her daughter Miranda.
She has been outed from her inheritance because she is a woman, which makes gender an even bigger issue in the movie.
Some fans of the bard may be appalled with the thought of tampering with one of his greatest characters - but the Oscar-winning actress is adamant the crossover is a smooth one.
"Actually I felt making Prospero into a woman was very valuable to the play," she says.
"All the relationships shift because she is female. There's the maternal relationship with her daughter - rather than a patriarchal one. She is a lot more vulnerable herself because she understands Miranda's emotional life and need for romance.
"I am actually convinced that were he [Shakespeare] writing in the modern day, he would have made Prospero into a woman."
Although The Tempest is the most mystical of Shakespeare's works, there is a comic sub-plot.
Russell Brand and Alfred Molina play Trinculo and Stefano, a couple of shipwrecked sailors trying to make themselves king of the island.
With Brand dressed as a Victorian and sporting a cockney accent, he appears to be reprising Aldous Snow, the rock star he played in Get Him to the Greek.
But Taymor believes Brand has the capability to carry off more Shakespearian roles.
"He is very intellectual, he just absorbs the text - and he is actually very like a Shakespearian character himself, as far as I am concerned," she says.
"He really wanted to play opposite serious actors. When he heard Alfred Molina was involved, and Djimon [Hounsou], that's when he signed up."
Dame Helen is used to playing strong female roles - most famously The Queen, which won her an Academy Award in 2007.
But, despite the critical acclaim the film bought her and the huge haul of subsidiary awards she won, Dame Helen still struggles to believe she is worthy.
"Although I had a portfolio of great roles, I never thought that - an Oscar - was in my destiny," she says.
"There are many great actresses who are never recognised. And I am not sure that we would have got the financing for this movie without it. This part came along at exactly the right time - 10 years ago we would never have got it made."
Getting Shakespeare right on the big screen is notoriously tricky.
Even director Kenneth Branagh, who has made a clutch of adaptations, from the tragic drama of Hamlet to a musical version of Love's Labours Lost , could not always be guaranteed to provide box office success.
Although initial reviews may not point to Taymor having made an outstanding film, critics do agree on the strength of Dame Helen's performance as a convincing Prospera.
For a part previously played by, amongst others, Sir John Gielgud and Derek Jacobi, that is high praise indeed.
If Prospera can stand in her own right as a character, then it seems Dame Helen may have succeeded in creating yet another Shakespearian heroine.