Quentin Tarantino denies Venice nepotism claim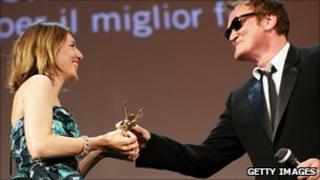 Quentin Tarantino has been accused of nepotism after he presented friends with several major awards at the Venice Film Festival, where he led the jury.
The Hollywood director's former partner Sofia Coppola won best picture for her tinseltown drama, Somewhere.
Tarantino's long-time friend Alex de la Iglesia took two prizes, including best director, for Balada Triste De Trompeta (A Sad Trumpet Ballad).
But the star said the jury had based their decisions on the films' merits.
Paolo Mereghetti, film critic of Italian newspaper Correre della Sera, has criticised Tarantino's decisions.
"The presidency of Quentin Tarantino runs the risk of turning into the most obvious conflict of interest possible if you remember that Somewhere and Road to Nowhere were charming and interesting in their own ways, but nothing more than that," he wrote.
But Tarantino told reporters he "wasn't going to let anything like that [favouritism] affect me at all".
"I was just going to literally respond to the film. There was no me steering any direction."
'Conflict of interest'
The jury awarded Vincent Gallo with the best actor trophy, even though he did not have a single line in the film Essential Killing.
And Tarantino's mentor Monte Hellman was presented with a special career prize, which was created by the jury.
Asked whether he had favoured his friends, Tarantino said it was Hellman who had originally taught him how award-giving at festivals worked, more than 20 years ago.
"I remember talking to him [Hellman] in 1992 at the Sundance Film Festival, when I was there with my film Reservoir Dogs," he said.
"I actually had a friend on the jury and he told me that a friend on the jury is your worst enemy as they would be too embarrassed to give you a prize.
"I wasn't going to let anything like that affect me."