New clues point to portrait painter's identity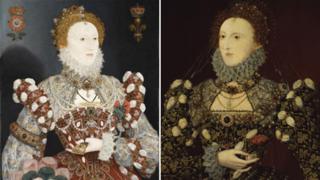 Art historians are one step closer to discovering the identity of a royal painter thanks to scientific research.
Analysis by the National Portrait Gallery of two renowned portraits of Elizabeth I has shown they were painted on wood from the same two trees.
The 16th century paintings have been associated with artist Nicholas Hilliard for many years.
Curator Tarnya Cooper said the research meant the work is probably that of Hilliard or someone working with him.
The two paintings will be shown for the first time together in 25 years for one week only when they go on display at the National Portrait Gallery in London between 13 and 19 September.
Researchers spent about nine weeks studying the portraits and concluded they must have come from the same studio, as the wooden panels they are painted on derive from the same two oak trees.
The two portraits were painted when Elizabeth I was in her early forties, almost halfway through her reign.
The titles of the two works - Pelican and Phoenix - stem from the jewels worn by the queen in each portrait.
Researchers also found that a tracing of the pattern of the Phoenix portrait matches the Pelican portrait in reverse, making it even more likely they were painted around the same time.
The Phoenix belongs to the National Portrait Gallery but has been on loan to Tate Britain since 1965.
The Pelican belongs to the Walker Art Gallery in Liverpool.
The portraits were last seen together in an exhibition in 1983 at the Victoria and Albert Museum in London.