Lady Gaga's legal dispute with former producer is over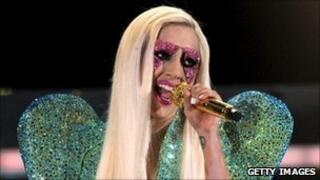 Lady Gaga and her former producer have dropped legal proceedings against each other, the singer's spokeswoman has said.
Rob Fusari, who is credited on Gaga's album The Fame, alleged the singer denied him his share of song royalties and merchandise revenue.
He sued the singer for $30.5m (£20m) but Gaga counter-sued, alleging the early agreement with him was illegal.
Both actions were dismissed by the New York Supreme Court.
The court dismissed the case in late August but this has only just been made public.
Fusari is also Gaga's former boyfriend.
It is not known if any money has been exchanged in the agreement to drop the claims.
A spokeswoman for Lady Gaga said in a statement on Friday that her client and Fusari "have agreed to end their dispute amicably and wish each other well".
"Rob Fusari is a Grammy award-winning producer and co-writer of Paparazzi and a number of other songs on Lady Gaga's debut album Fame," the statement said.
A lawyer for Fusari was not immediately available for comment.
In legal documents, Fusari had claimed he was instrumental in securing Lady Gaga's record deal with Interscope Records, which released The Fame in 2008.
He said business dealings between the pair collapsed after their relationship soured and claimed he was denied a 20% share of song royalties, 15% of merchandising revenue and other outstanding monies.
Lady Gaga's lawyers had said Fusari was just an agent for her, and got her to sign an unfair agreement in 2006.
Earlier this year, Gaga won two Grammys - best dance recording for Poker Face and best electronic/dance album for The Fame.