BBC Proms season draws record audience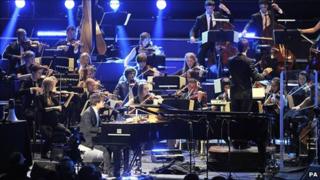 This year's BBC Proms season has attracted a record number of people.
Organisers said the total audience had grown by 5% on last year with 313,000 attendances for the 89 concerts in the Royal Albert Hall and Cadogan Hall in 2010.
Proms director Roger Wright said: "The strong attendance figures are a testament to the adventurous spirit of the Proms audience."
The 116th season ends on Saturday with the Last Night of the Proms.
Mr Wright, who is controller of BBC Radio 3, added: "It's extremely pleasing to see that audiences are stronger than ever for the BBC Proms, particularly given the large amount of new music in the broad range of programming."
The total attendance in 2009, which included six additional Cadogan Hall concerts, was 297,500.
Average attendance for the main evening Proms in the Royal Albert Hall this year was 92%, compared with 87% in 2009.
An average of 4,000 people attended each of the 76 Proms in the Royal Albert Hall and 49 concerts sold out completely (compared with 39 in 2009).
This year's season included an opening weekend featuring Mahler's Symphony No 8, Wagner's The Mastersingers of Nuremberg, with Bryn Terfel, and Verdi's Simon Boccanegra, with Placido Domingo.
There were also events dedicated to the music of Stephen Sondheim, Rodgers and Hammerstein, and BBC sci-fi show Doctor Who. Jamie Cullum made his Proms debut.
The first Proms concert took place on 10 August 1895 and was the brainchild of the impresario Robert Newman, manager of the newly-built Queen's Hall in London.
His aim was to reach a wider audience by offering more popular programmes, adopting a less formal arrangement, and keeping ticket prices low.