Damien Hirst joins arts funding campaign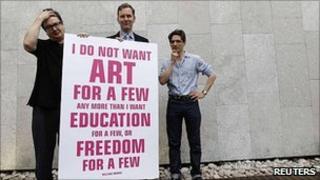 Artists Damien Hirst and Tracey Emin have joined a campaign against proposed government cuts to arts funding.
The artists are among almost 2,000 people who have signed a petition warning against the cuts.
"It has taken 50 years to create a vibrant arts culture in Britain that is the envy of the world," the petition says.
It adds that cuts risk destroying "the social and economic benefits it brings to all".
In July, the government asked all major arts funding bodies to show how they would manage cuts of 25% or 30%.
Spending review
David Hockney, Anthony Gormley and Turner Prize winner Mark Wallinger have also joined the appeal to stop cuts.
They are among artists taking it in turns to produce a new artwork of protest every week until Chancellor George Osborne announces the results of the government's spending review on 20 October.
The first - a video animation by artist David Shrigley - was launched on Friday at London's Royal Festival Hall.
Robert Dufton, director of independent "grant-making" organisation the Paul Hamlyn Foundation - which funded the video - said: "We are pleased to support this campaign and hope that its message is taken on board.
"As an independent funder of the arts we are aware of the effect that cuts will have on many of the organisations we support.
"We stand to lose a great deal as a society if arts organisations are forced to stop the very valuable work they do."
The public are also being invited to sign the online petition which will be sent to Culture Secretary Jeremy Hunt.
Last week, a survey of more than 2,000 British adults found that two-thirds agreed with the government's stance on cutting arts funding and increasing reliance on private cash.
The poll was commissioned by organisers of The Threadneedle visual arts prize.