Piers Morgan to replace host Larry King on CNN network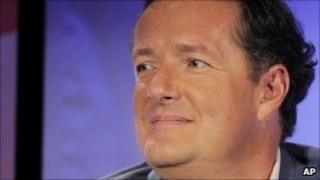 Former newspaper editor and Britain's Got Talent judge Piers Morgan will replace TV presenter Larry King on the US network CNN, it has been announced.
Morgan's selection as King's replacement had been widely expected for the past few months.
CNN president Jon Klein said Morgan can "look at all aspects of the news with style and humour with an occasional good laugh in the process".
The 45-year-old is familiar to US audiences from America's Got Talent.
Referring to King in a statement, Piers said he had "dreamed of one day filling the legendary suspenders of the man I consider to be the greatest TV interviewer of them all".
Morgan will start his new job in January. It is not known whether he will continue with his judging roles on the US and UK talent shows.
But Morgan told ITV News at Ten: "Obviously some things are going to have to give."
He said he was considering his future as a judge on Britain's Got Talent and would make an announcement "before too long".
Asked who he would like to interview, he said US President Barack Obama would be at the top of his list.
Record-breaking broadcaster
King, who began presenting Larry King Live on CNN in 1985, announced in June he would step down as host of the show in the autumn.
The veteran broadcaster, 76, recently made it into the Guinness Book of World Records for the longest-running show with the same host in the same time slot.
His programme attracts leading politicians, musicians, athletes and actors - often giving exclusive access to the bespectacled host, who famously puts little preparation into his inquisitions.
To mark his 25th anniversary in the host's chair this summer, he spoke to Lady Gaga, Bill Gates and President Obama, garnering some of his highest ratings in recent years.
According to his official biography, King will retire having conducted more than 40,000 interviews.