In between The Inbetweeners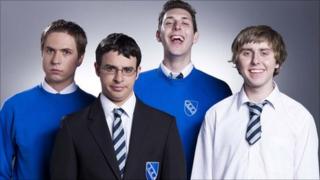 Displaced teenagers Simon, Will, Neil and Jay are heading back to school, where they face a final year of humiliation, social exclusion and female rejection.
Led by smart, confident misfit Will McKenzie the quartet paint a cringe-inducing picture of teenage life, where every moment is an opportunity for humiliation.
Since E4's The Inbetweeners started in 2008, the comedy show has gone from strength to strength, with two Bafta nominations and a double win at the British Comedy Awards.
"We never thought it would go on this long," says Blake Harrison, who plays likeable-but-thick Neil Sutherland.
"It was the first time that we'd ever done something on TV," adds Simon Bird, aka super-geek Will.
"We were expecting it to be one series only. We didn't know if people would watch it."
But with the last series attracting a peak audience of 1.2 million viewers, the show's writers are planning to take it to the movies.
There isn't exactly a proud tradition of British sitcoms translating to the big screen - as unfortunate viewers of Are You Being Served? and Kevin And Perry Go Large will attest.
"I think they [the writers] are definitely well aware of the pitfalls of making a British comedy film and how many stinkers there have been," Bird says.
"I say that, but I'm sure the people who made the stinkers were also aware that there are a lot of bad British comedy films, so you never know - but we'll do our best," he laughs.
"I think we all credit the writers with a certain degree of talent and intelligence," Harrison agrees.
"This isn't going to be an hour-and-a-half long Inbetweeners episode. The idea is that once you're 10 minutes into the film you'll forget there ever was a TV show."
The four actors recently spent a short stint in the Greek resort of Malia, Crete, shooting for the movie, which is where they discovered the extent of the show's popularity - and that of its gleefully frank dissection of teenagers' obsession with sex.
'Completely inappropriate'
"There was a group of young lads there with nicknames on their T-shirts and one of them had [an unprintable phrase] from the show on it," Harrison recalls.
"You get a lot of insults, too. Not a day goes by when I'm not insulted in public. It's nice isn't it? It's well meaning, it's affectionate," Bird laughs.
"The only negative comments I get about the show are from parents of young children. They'll be out with their eight-year-old daughter, and will come up and say: 'Oh she loves The Inbetweeners. Personally I think it's completely inappropriate.'"
"I'd call their parenting into question," jokes James Buckley, who plays sex-mad compulsive liar Jay Cartwright.
The 23-year-old has just joined his cast members following a photo shoot with Joe Thomas, otherwise known as Simon Cooper, the most sensible and sensitive of the four boys.
Now that all of them are together, the tone of the interview immediately changes, as they tease each other and mess around - in a way that suggests their on-screen personas are not too far removed from real life.
When asked whether they spend time together away from work, Buckley responds without missing a beat: "No."
Cue raucous laughter.
"It's very blurred what is actually work and what is actually just mucking about," he says once the mayhem dies down.
"We do end up seeing each other at least once every couple of weeks and I don't want to see them more than that. I'm literally bored of them," Bird jokes.
"We're not very good at concentrating. If we find something funny then we'll keep going on and on and on about it," Buckley explains - foreshadowing his behaviour during the rest of our interview.
'Teenage angst'
With their faces splashed across billboards and buses up and down the country, and fans parroting the slang words used in the series, the stars all have different explanations as to why the show has become such a hit.
Thomas puts it down to the storylines - which include Will soiling himself during an exam and Simon borrowing a tramp's shoes so he can impress a girl in a nightclub. He says they are simply "honest".
"The show's aims are sort of modest," he adds, "but it tries very very hard to be realistic in depicting real-life situations".
"You won't get fancy plot lines with The Inbetweeners but hopefully you do get something that is quite carefully depicted."
Harrison thinks the show's school setting makes it "easily relatable" because "everyone has experienced teenage angst".
Sadly for die-hard fans of the show, all four actors agree that a fourth series is unlikely.
"I don't think there ever will be another after this one," says Buckley.
"I think we'd all want to do another series - we'd milk it dry to be honest - but we don't want to do it badly."
Bird says it would be up to the writers whether or not to continue but adds that, in his opinion, the show will have run its course after series three.
"If they have an idea where those four characters would still be together after school's finished, then maybe, but because the series ends with school finishing, it seems natural that they would all go their separate ways.
"It feels like it might be a bit contrived to have another series. And it's so nice and rare to have a comedy show that is so popular. We don't want to ruin that."
The Inbetweeners starts 13 September on E4 from 2200 BST