'No decisions' over World Service cuts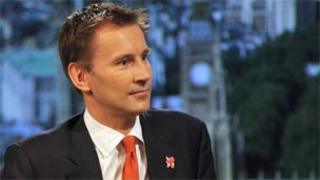 No decisions have been taken about possible cuts to the BBC World Service's annual £264m grant, Culture Secretary Jeremy Hunt has said.
It follows newspaper reports that some of the BBC's language services - including the Burmese - are under threat because of Foreign Office cuts.
Government departments have been told to shave at least 25% off budgets to tackle the UK deficit.
The World Service is funded by grant-in-aid rather than the licence fee.
It is paid for by the government - its funding allocated by the Foreign and Commonweath Office (FCO).
Mr Hunt said the coalition government was "absolutely committed to the global reach of the World Service and the very important job it does as a beacon for democracy around the globe".
But he said it was still looking at budgets to see whether better value could be achieved for taxpayers.
An FCO spokesman said: "Any proposal to open or close a language service requires ministerial approval - no such approval has been sought or given."
All aspects of the FCO's future budget were being considered as part of the government's spending review, he added.
He said it would be wrong to comment on details while the review - the outcome of which will be revealed on 20 October - was under way.
Meanwhile, BBC director general Mark Thompson, speaking to MPs on the culture, media and sport committee, said the World Service grant-in-aid was "absolutely in scope for the comprehensive spending review".
"Manifestly, these are some of the most cost effective and leanly run parts of the BBC and significant cuts in grant-in-aid would have a very significant and deep effect on services," he said.
BBC Trust chairman Michael Lyons, speaking at the same meeting, added that the service was "amongst the most valued parts of the BBC's output, both in terms of its standing in this country but certainly across the world".
"We're talking about an audience of 180 million in the last year so a very modest expenditure for the BBC and Britain to have its voice heard by that larger audience."
He added: "The BBC is inhibited from using licence fee payers money for the world service so any cut that is imposed here actually will be a cut in service - there is no way to avoid that."
Foreign Secretary William Hague told MPs earlier this summer the World Service played "a crucial role in our soft power" but that there was "great pressure across the whole of the public sector".