The Last Exorcism tops UK box office in opening weekend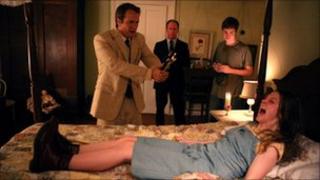 Horror movie The Last Exorcism has debuted at the top of the UK and Ireland box office.
The film, about a documentary crew and troubled minister seeking to debunk the practice, took £1.1m over the weekend.
Adam Sandler's poorly-reviewed comedy Grown Ups lost its grip on the top spot, falling to number four.
It made room for Steve Carell comedy Dinner For Schmucks, a new entry at two, and family animation Toy Story 3 at three.
It was revealed on Tuesday that the Disney Pixar hit had become the second highest-earning film in the UK, with a total box office tally of £70,131,106.
The higher price of 3D cinema tickets partially accounts for the film's success - as it does for the UK's highest box office earner, Avatar, which has receipts of £93.4m.
Elsewhere in this week's top 10, comic book adaptation Scott Pilgrim vs the World fell to number five, while Jennifer Aniston's latest romantic comedy The Switch entered the chart at six.
Sylvester Stallone and his all-star cast of mercenaries in The Expendables dropped three places to to seven, while Angelina Jolie's spy movie Salt also slipped three places, from five to eight.
Horror movie Piranha 3D placed ninth, while mind-bending thriller Inception spent its eighth week on the chart in 10th place.