George Bernard Shaw photographs to go online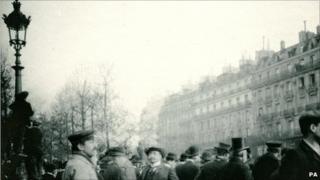 Thousands of photographs taken by playwright George Bernard Shaw are to be made available online, the National Trust has announced.
The Pygmalion writer was a keen photographer who took pictures of stars including Gone with the Wind actress Vivien Leigh and writer HG Wells.
The National Trust said two-thirds of the 20,000-strong collection, which also includes photos of Shaw himself, should be online by summer 2011.
George Bernard Shaw died in 1950.
About two-thirds are photographs are taken by the Irish playwright while others - including pictures taken on film sets and press shots - feature him.
The National Trust, which owns the majority of the archive, said the collection included prints, negatives and albums.
It is working with the London School of Economics and Political Science (LSE) - which Shaw helped to found - to conserve, catalogue and post the images online.
Several hundred of the images from the collection are already online.
Fiona Hall of the National Trust said the most interesting aspect of the collection was "the contrast between GBS the public figure and Bernard Shaw the private man".
"The shots of GBS, the celebrity, show him unsmiling, dressed smartly and holding a prop such as a cane," she said.
"More intimate shots show him relaxed, surfing, picnicking, and striking poses from famous sculptures, including Rodin's Thinker."
The collection - which begins with photographs taken in the 1890s - includes pictures of Ireland as well as his travels in Europe, Algeria, New Zealand and South Africa.
There are also photographs of theatre productions, premieres and behind-the-scenes pictures of movie sets including 1945's Caesar and Cleopatra, starring Vivien Leigh and Claude Rains.