Rock anthems vanishing from chart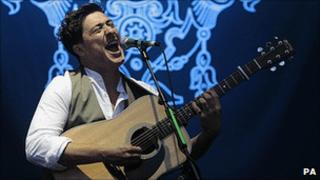 The number of rock hits appearing in the UK singles chart has shrunk this year, according to figures from the Official Charts Company.
Sales of rock singles have dropped by almost 18% in the first eight months of 2010, compared with last year.
Urban single sales are up 33%, with pop rising 30% in the same period.
Music Week magazine said just five of the 100 best-selling singles of the year so far were classed as rock, led by Journey's Don't Stop Believin'.
That song was first released in 1981 and has recently enjoyed renewed popularity after being covered on the TV show Glee.
The only other hits in the top 100 list to be classed as rock by the OCC were two tracks by singer-songwriter Florence and the Machine, one by folk band Mumford And Sons and one by dance act Pendulum.
Absolute Radio head of music James Curran told Music Week magazine the singles chart had "become unrecognisable from even two years ago".
He said: "What's quite frightening is how quickly it has changed. It's very difficult to get a bona fide rock hit these days, even by some of the biggest bands."
In 2008, acts including Coldplay, Kings of Leon, Nickelback, the Kooks, Oasis, The Verve, Biffy Clyro, Razorlight and Kaiser Chiefs all scored top five singles.
This year, Muse, Biffy Clyro and The Pretty Reckless, the group led by Gossip Girl star Taylor Momsen, have all appeared in the top 20.
Elbow singer Guy Garvey - whose band have had six top 40 singles since 2001 - recently told BBC News that singles were now mainly bought by 13-year-old girls, and "13-year-old girls have got better stuff to look at than boys with guitars at the moment".
"I think [rock music] will always be there - people who love it are buying albums or are going online and getting more than one track at once, so I don't think the singles chart reflects how popular guitar music still is."
Speaking at the Mojo Awards in June, Led Zeppelin guitar legend Jimmy Page said he did not believe that rock was dying out.
"I think there are a lot of guitar bands around - it's whether they have the chance to play in venues," he said.
"Providing we can all keep music alive by going to those gigs where all bands play... That's so important because otherwise people don't get a vehicle to showcase what they have and build it."
Stone Roses and Primal Scream bassist Mani, meanwhile, told BBC News that he thought modern bands were playing it too safe.
"It's all about the songs and technique and spirit," he said. "Bands of my era had a whacked out agenda. They walked it, they lived it, they breathed it.
"[They were] not necessarily the best musicians in the world but they can try things that are dangerous. I think what's wrong with British music at the moment is people are too career-orientated.
"They're afraid, or record companies will not allow them to take risks, and that just makes everything so uniform. Why bother?"
Asked whether it was still possible to do anything original with a guitar, he replied: "People should play the great riffs sideways, backwards, upside down - guitar music has never run its course. I think somebody said that with The Beatles didn't they?"
The biggest-selling singles from any genre this year have been by Owl City, the Helping Haiti supergroup, Usher, Eminem and Katy Perry.