Charles Saatchi gallery deal hits setback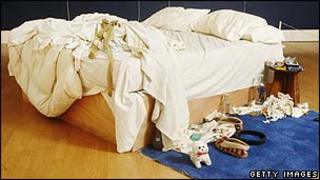 Charles Saatchi's plan to donate his gallery to the British public has hit a stumbling block after talks with Arts Council England broke down.
His proposal, announced in July, included £25m of art for the nation.
Culture Secretary Jeremy Hunt called the gift, including Tracey Emin's My Bed, an "act of incredible generosity".
But BBC arts editor Will Gompertz says there were several inherent issues within Mr Saatchi's proposals that may have led to the current setback.
One of them could be the idea of part-financing the new institution by buying and selling items in the permanent collection, a policy which runs against the code of ethics set out by the Museums' Association.
Others have objected to the creation of a new museum of contemporary art, as it would duplicate the role of Tate Modern.
It is understood that the Saatchi Gallery's talks have now resumed with a separate, non-publicly funded arts organisation.
A spokeswoman for Mr Saatchi said: "There is nothing more to say for the time being but hopefully [there will be] in the next few weeks".
The Department of Culture, Media and Sport (DCMS) told the BBC it would not give a "running commentary" on discussions.
"Ministers made clear in July that they very much welcome the announcement by Charles Saatchi of his intention to donate his collection to the nation," read the DCMS statement.
"Any donation of this type involves a range of logistical issues and the details of how it will best be taken forward have not been finalised."
'No charges'
Under the plans, the 70,000 sq ft Saatchi Gallery in Chelsea, owned by Cadogan Estate, would become the Museum of Contemporary Art for London (Moca London).
A permanent collection of 200 works by high-profile British artists, including Emin, would form part of the gift.
Other works in the collection include Tragic Anatomies, by Jake and Dinos Chapman, which features mutated mannequins in a garden, and an installation by Emily Prince made up of thousands of drawings of US military personnel killed in Afghanistan and Iraq.
A wall of bones which form the text of a Gandhi speech - by Indian artist Jitish Kallat - and French-Algerian artist Kader Attia's room of life-sized praying figures made from aluminium foil are also included.
The gallery's managers said in July they would make sure free entrance continued by raising money from sponsorship and hosting events.
They added that the museum would meet all costs of handing over its collection, and "no charges will fall to the state".
Mr Saatchi, 67, would also continue to own many hundreds of works himself, it continued, "which will be passed to his family on his death".