Stephen Fry: BBC 'culture of fear' creating blandness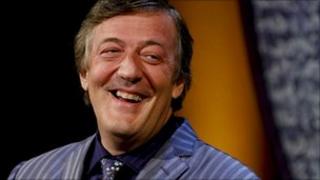 Stephen Fry has said there is a culture of fear at the BBC which is creating "incredibly bland" programmes.
The host of BBC Two's QI told the Radio Times executives with "cold feet" were shying away from taking creative risks.
"A lot of the adventure and excitement have gone out of television programming and a lot of it is just down to fear."
Anti-BBC rhetoric in some newspapers was compounding the situation, he said. The BBC was not immediately available to respond to Fry's comments.
Fry said: "It's distressing because it's working - not by making people feel any less loyal to the BBC, but by affecting the culture of the BBC.
"There is this thing, I call it interfearing."
Compliance systems
He said: "I do know of so many cases where executives would say 'What we want is something new, something different, something extraordinary!'
"And they're brought something new, different and extraordinary and immediately the executive gets cold feet, falls back on something else and we end up with something incredibly bland."
He added executives were more inclined to play it safe but "for a creative institution, that's death".
The BBC strengthened its compliance systems in 2008 after a series of rows over taste and decency including the Jonathan Ross and Russell Brand prank calls and complaints over comments made by comedian Frankie Boyle on BBC Two's Mock the Week.
Talking about the forthcoming series of QI, Fry said unlike other panel shows the celebrity contestants were not in on the answers - apart from one panellist.
"There's only one regular guest who always insists on seeing the questions beforehand and prepares for them. I won't tell you his or her name," he said.
"It really annoys me. In fact, one day, I'll make sure that person is given a list from another programme because they don't need them."