Paul Weller Mercury Prize odds slashed by bookmaker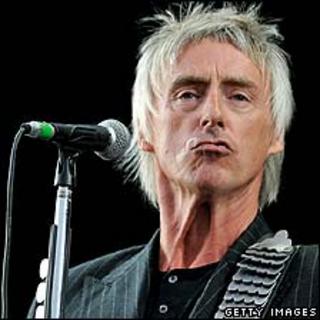 The odds of Paul Weller winning the Mercury Prize have been slashed after a bookmaker took an "unprecedented" rush of bets from people backing him to win.
William Hill dropped its odds from 20/1 to 1/10 over the weekend after what it called "extraordinary" activity.
Its spokesman said more than 100 wagers of up to £100 each were put on Weller on Friday night - mostly in shops in the Birmingham area.
Weller's Wake Up the Nation is one of 12 albums in contention for the award.
The Mercury judging panel traditionally decide on the winner at the live ceremony, which takes place in London on Tuesday.
William Hill spokesman Rupert Adams said they were "100% sure" that nobody knows who is going to win this year.
"Literally within about two hours we had a succession of people walking into our shops," he told the BBC News website.
"Before we knew it we had liabilities of over £20,000 on [Weller's album].
"Despite cutting the price, people kept coming and coming and coming," he continued.
"This is a pretty unprecedented gamble - certainly in the history of the Mercury, and also every other music award."
Mr Adams said he suspected a group of people may have got together and decided Weller was worth a gamble.
The group may suspect judges will pick him because he has never previously won the prestigious prize and he may never get another chance, he continued.
"It's so co-ordinated that maybe it's a syndicate of people who have got together and thought this is a good idea," he continued.
Mr Adams said the prize was "very open still" and that he and his colleagues would be awaiting Tuesday's announcement "with baited breath".
Weller has not been nominated for the Mercury since 1994, when his Wild Wood album was shortlisted.
Newcomers The xx had previously been favourite but are now second favourite at 7/4.
Bookmakers Ladbrokes and Paddy Power have also made Weller favourite to win.
The Mercury prize is open to UK and Irish acts who have released albums over the past year.
Twelve months ago, the prestigious award went to hip-hop star Speech Debelle for her debut release Speech Therapy.