New Daybreak show debuts on ITV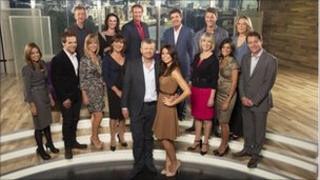 New morning show Daybreak has made its debut on ITV.
Ex-One Show presenters Adrian Chiles and Christine Bleakley kicked off the programme by welcoming and thanking viewers for "joining us on our first day".
Former Prime Minister Tony Blair also appeared on the show for his first live UK television interview since the publication of his memoir, A Journey.
Daybreak's predecessor GMTV bowed out on Friday after a 17-year run.
The new show is not a complete departure from its predecessor, with former GMTV faces Kate Garraway, John Stapleton and Dr Hilary Jones appearing alongside new presenters.
The inaugural show featured items including interviews with victims of the Farepak collapse, cuts to the schools building programme and a skateboarding bulldog.
It also visited Forth Park Hospital in Kirkcaldy, Fife, to meet parents of newborn babies, coinciding with the birthday of the programme.
The Prince of Wales is due to appear later this week from the new studio in London's South Bank.
Blogging on The Guardian's website, Stuart Heritage wrote: "Although it does seem like a continuation of GMTV rather than a bold reinvention, some of the new aspects of Daybreak have worked.
"Adrian and Christine have done reasonably well and the other new faces all seem like good additions."
The Daily Mail noted "the pair looked incredibly cosy", even though "they stumbled over a word or two".
But The Telegraph's Andrew Pettie seemed less than impressed, saying "this could have been any old edition of any other breakfast show".
"Daybreak's producers had promised that it would help set the day's news agenda for its viewers. For most of the show, however, the news items were flabby and lacklustre," he added.