Conductor Seiji Ozawa stages comeback after illness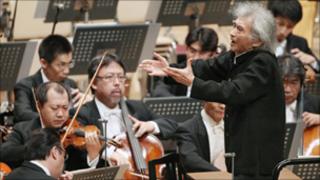 Acclaimed Japanese conductor Seiji Ozawa has opened a music festival in his native country following a nine-month battle with throat cancer.
Ozawa, 75, was greeted with applause as he arrived to open the Saito Kinen Festival in Matsumoto on Sunday.
He conducted a short piece, the first movement of Tchaikovsky's Serenade for Strings, but had to use a chair to support him due to a bad back.
"I have graduated from being a cancer patient," he told the audience.
"But there's one small snag - my back, which had in the past given me trouble and is bad again," Ozawa said.
Ozawa is the festival's founder and artistic director.
New York concert
"I am so happy to have seen him look well. He is Japan's national treasure," said one female audience member.
The musical director of the Vienna State Opera was diagnosed with oesophageal cancer in January and has undergone surgery and several months of treatment.
Ozawa has cancelled a string of appearances in Europe planned for December although he will perform at a concert in New York's Carnegie Hall the same month.
Before he joined the Vienna opera in 2002, he served 29 years as music director of the Boston Symphony Orchestra.