DJs unite for Love Parade track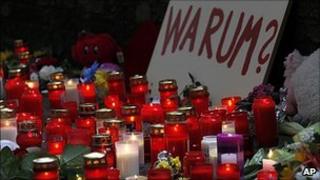 Three of the world's most successful dance DJs have joined forces to pay tribute to those who died at the Love Parade festival in Germany in July.
Paul Oakenfold, Armin van Buuren and Paul van Dyk have created the track Remember Love, which will be released under the name DJs United.
Twenty-one people were killed and more than 500 were injured during a stampede at the dance music event in Duisburg.
Oakenfold said he wanted it to be akin to Band Aid or the Helping Haiti hit.
"I just thought we should do something to help them," he said. "In many other music genres artists come together.
"So I wrote this song and contacted Armin van Buuren and Paul van Dyk. I think this is the first time this has ever been done in the dance scene, to give back, to help people."
The song will be released on 11 September and all proceeds will be donated to the Association of Non-statutory Welfare in North Rhine-Westphalia Germany to help those who were injured and the families of those who died.
German DJ van Dyk said the track aimed to "assist those who suffered by donating all proceeds to charity".
"It was a great honour to work with Armin van Buuren and Paul Oakenfold on this very important project. Please help us help others," he said.
Dutch star van Buuren added: "For the first time an Englishman, a German and a Dutchman teamed up and became united in the studio, creating a track that I hope people will love and treasure.
"Our purpose was united in the sense that we wanted to pay homage to those whose lives were lost, and to have their memories live on in the spirit of our record."
Prosecutors have launched a criminal investigation to determine whether negligent manslaughter was involved in the deaths.
The festival organisers have said that they will discontinue the Love Parade, which first started in 1989.