Sarah Kennedy leaves BBC Radio 2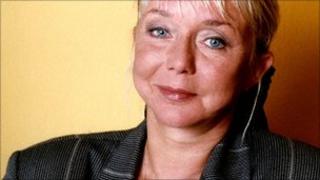 Veteran broadcaster Sarah Kennedy is leaving BBC Radio 2 - 34 years after joining the station.
Kennedy, 60, who has been presenting her early morning Dawn Patrol show since January 1993, said: "As I have been spared for this long, it's time for a change."
She said she was relishing new projects "inside and outside broadcasting".
Kennedy presented 1980s TV show Game For A Laugh alongside Jeremy Beadle as well as Matthew and Henry Kelly.
She joined Radio 2 in 1976 to present Family Favourites, a record request show linking members of the British forces stationed abroad with families back in the UK.
Dawn Patrol, meanwhile, ran from 0500 to 0700 in the beginning before moving to a 0600 to 0730 slot a year later.
It reverted to its original time in January 2010 when Chris Evans took over the main breakfast show from Sir Terry Wogan.
"After 17 years of early starts, the temptation of destroying my alarm clock has proved too much to resist," Kennedy said in a statement.
"I shall miss my Dawn Patrollers - their wit, wisdom and warmth - more than I can put into words."
Radio 2 controller Bob Shennan said Kennedy had gained "an army of fans with her inimitable style of broadcasting".
"Everyone at Radio 2 would like to thank Sarah for her many years of sterling service and wish her the very best of luck for the future," he added.
Last year, Kennedy was "spoken to" by BBC bosses after she praised the late Enoch Powell as "the best prime minister this country never had".
He was sacked from the shadow cabinet by Ted Heath in 1968 for his Rivers of Blood speech about the dangers of mass immigration.
In 2007, meanwhile, Radio 2 apologised after she said had almost run over a black pedestrian because she could not see him in the dark.