British comedy shows the countryside's dark side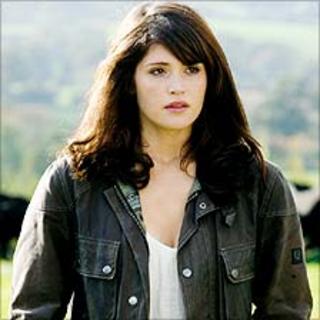 City dwellers often imagine the English countryside to be a rural idyll, tranquil of pace and leafy of hedge.
According to new film Tamara Drewe, however, it is the location for "a filthy version of The Archers".
That is how one reviewer described Stephen "The Queen" Frears' movie when it premiered at the Cannes Film Festival earlier this year.
Gemma Arterton plays the title character, a young columnist who returns to the village where she was born with an expensive nose job and a big city attitude.
The film, partly financed by the BBC, represented a similar homecoming for the 24-year-old after such Hollywood blockbusters as Clash of the Titans and Prince of Persia.
"It was refreshing coming home," she smiles. "The filming of it was very down-to-earth and British; it all felt very light.
"There was no messing about; Stephen knows when he's got something right and you just do it. It's my favourite job so far."
Based on a graphic novel by Posy Simmonds, Frears and screenwriter Moira Buffini have made Tamara Drewe into a dark pastoral parody.
Set in the fictional retreat of Ewedown, it features characters who behave with malice towards each other out of sheer frustration and boredom.
"I loved the script - it made me laugh," says Frears succinctly. "It was fresh and original and very sexy."
His sentiments are echoed by Dominic Cooper, who plays a "vacuous and silly" rock star who conducts an affair with Tamara.
"I knew a little about its history as a graphic novel and the fact that Stephen Frears was attached," the actor explains.
"Then we read the script as a group and it seemed to come alive once the lines were spoken.
"We couldn't put a finger on what it was, but it is a take on a certain social class that we haven't seen a great deal of in UK cinema.
"We've seen a lot of films about the lower classes or sumptuous costume dramas. But this is about a world which looks idyllic and perfect, but you have adults falling to pieces."
"It's trouble in paradise," nods Tamsin Greig, who plays a repressed wife obsessed with the minutiae of country life.
"It looks at human behaviour and our foibles, needs and desires, even if those desires include throwing eggs at a passing car."
With a "writers' retreat" forming a central part of the story, Frears takes a sly delight in the characters' self-indulgence and inability to take responsibility for their actions.
"I'd say it was a mucky comedy with nasty things going on in the group," he smiles. "I like this idea of, 'I'm creative so I have to behave appallingly.'"
Rock stars, media babes and would-be authors may not seem representative of the countryside population.
Yet they do offer a diversion for local girls Jody and Casey, the youthful throwers of those aforementioned eggs.
"The lives of these two teenage girls are dictated by incessant boredom," comments Greig.
"There is this undercurrent. How do people live with ordinariness when two days can look much the same as the other?"
Tamara Drewe is out in the UK on 10 September.