Paul Hogan given leave to return to US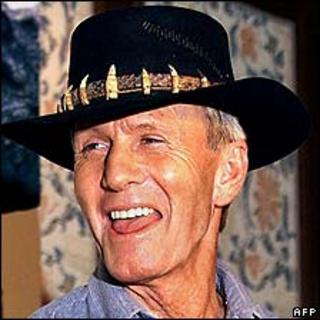 Crocodile Dundee star Paul Hogan has reached an agreement with tax authorities in Australia allowing him to return to his home in the US.
The 70-year-old had previously been barred from leaving Australia over an unpaid multi-million dollar tax bill.
His lawyer said a deal had been reached following a "cordial and co-operative" meeting with tax officials.
Hogan was served an Australian Taxation Office order last month after returning to Sydney for his mother's funeral.
Earlier this week, the actor told Australia's Nine network he was unable to pay "10% of what they're asking".
"I don't have, and never had, the money people think I got," he continued.
It is claimed the Australian Taxation Office (ATO) is seeking tax on A$37.5m (£22.1m) of allegedly undeclared income from Hogan.
Hogan has denied claims he has put tens of millions of dollars in film royalties in offshore tax havens.
"Mr Hogan is pleased to announce that the parties have reached agreement on terms... which will allow Mr Hogan to return to his family," Hogan's lawyer said on Friday.
"While the Commissioner and Mr Hogan remain in dispute on more general taxation issues, Mr Hogan continues to protest his innocence and denies any wrongdoing."
The former TV star became an international celebrity after playing wily bushman Mick "Crocodile" Dundee in 1986.
Crocodile Dundee went on to become Australia's most successful film, spawning two sequels.
Hogan now lives in Los Angeles with actress wife Linda Kozlowski, his co-star in the Crocodile Dundee films.
The ATO has made no statement about his case, saying it does not comment on individual taxpayers.