Damien Hirst art works 'inspired by others'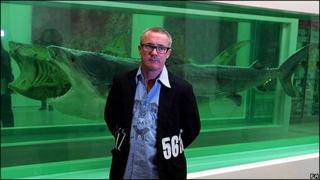 A group that lobbies against conceptual art has claimed 15 works by the artist Damien Hirst were inspired by others.
The alleged cases are detailed in an article in art magazine The Jackdaw.
Charles Thomson, co-founder of the Stuckists art movement, alleges that several Hirst works - among them his medicine cabinets and spin paintings - were based on existing pieces.
Hirst's press officer called the piece "poor journalism" and said the artist would issue a "comprehensive" rebuttal.
In an article entitled The Art Damien Hirst Stole, Thomson presents 15 examples of Hirst works beside images of the works he claims they are inspired by.
They include his 2005 piece In Nomine Patris, an eviscerated sheep in formaldehyde positioned in a crucifixion pose.
Thomson alleges that Hirst got the idea for the piece from This Is My Body, This Is My Blood, a 1986 work by artist John LeKay which also featured a so-called crucified sheep.
Other pieces cited include his installation Pharmacy, a cabinet with bottles on shelves Thomson says was based on a 1943 work by Joseph Cornell.
Hirst is well known for his headline-grabbing conceptual artworks, which include sharks suspended in formaldehyde and a skull encrusted in diamonds.
Last year the 45-year-old announced he had stopped making installations in favour of traditional paintings by hand.
Unproven allegations of plagiarism have dogged Hirst since he made his name as one of the "YBAs" - Young British Artists - who came to prominence in the 1990s.
Of the 15 allegations made in The Jackdaw, eight are said to be new.