Cowell discrimination case will not go to tribunal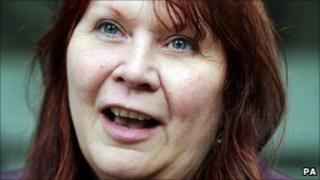 A Britain's Got Talent hopeful who claimed she was discriminated against at her audition, has failed to get her case taken to an employment tribunal.
Emma Amelia Pearl Czikai, who suffers from cervical spine neuritis, wanted to sue Simon Cowell and his hit show.
The 54-year-old argued that producers knew about her condition and made a "fool" out of her on TV.
The decision not to pursue a tribunal was made at a pre-hearing review. Mr Cowell was unable to comment.
'Unfair conditions'
Ms Czikai first appeared on the show in May 2009, and was seen singing You Raise Me Up in front of the three judges.
After her audition, Cowell told her "it is a beautiful song - when you're not singing it".
Ms Czikai blamed her poor performance on being made to stand outside in the cold weather as she waited for her turn on stage.
"That traps the nerves, so immediately that aggravates the condition," she told the BBC earlier this year.
Ms Czikai, from Sutton Coldfield, insisted the conditions "were unfair" and asked producers not to show the footage, which they did not agree to.
Instead, they invited her to appear on the ITV2 spin-off show Britain's Got More Talent.
The amateur singer said producers had agreed to make an explicit link between that performance and her original audition on the show's website, but failed to do so.
She said that allowing repeated viewings, without a link to an improved performance, "was an act of harassment perpetrated in the full knowledge of the fact I was being degraded and humiliated because of illnesses".
The subsequent attempt to take the case to an employment tribunal was dismissed because of the amount of time that had lapsed since the incident and the fact that Cowell was not her employer, she said.
However, Ms Czikai said she was not disappointed with the decision.
"My life has changed so markedly, now all I want to do is just forget about everything. I would rather walk away from it," she said.
"I think it [reality TV] is a dangerously out-of-control industry and if it can't be regulated by tribunals it's an open field day."
"I've done as much as I can to bring it to the public's attention."
She had reportedly been suing Cowell and his production company Syco and Fremantle Media £2.5 million, but Ms Czikai insisted she did not care about the money.
"I think I've made the public aware of how awful these programmes are. I think I'm just going to leave it now."