Rapper TI is arrested for drugs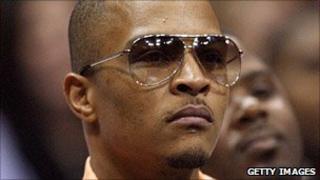 Rapper TI and his wife Tameka Cottle have been arrested in Hollywood for drug possession, police have confirmed.
Los Angeles sheriff's deputy Mark Pope said they were arrested on Sunset Boulevard in West Hollywood during a traffic stop on Wednesday night.
They were stopped when officers thought they smelt cannabis smoke coming from their vehicle.
Bail was set for the star - whose real name is Clifford Harris Jr - at $10,000 (£6,494).
TI, who stars in the box office movie Takers, was released from a federal prison in Arkansas in December.
He served several months for illegally possessing firearms.