Coronation Street to go live for 50th anniversary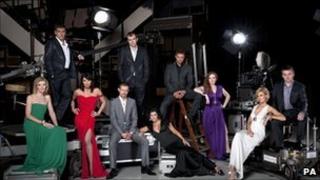 Coronation Street is to broadcast a live episode as part of its 50th anniversary celebrations, soap bosses have confirmed.
The ITV1 series, which marks its half-century in December, will screen the special instalment later this year.
A spokeswoman for the soap said: "Everyone is very excited, if not to say a little nervous."
The soap previously screened a live episode for its 40th anniversary, which also featured the Prince of Wales.
The spokesperson said they felt the live show was a fitting way to "celebrate such a prestigious anniversary."
Producer Phil Collinson revealed earlier this year that key characters will be killed off in a tram crash which occurs in Weatherfield in December.
It is not clear whether the disaster will occur during the live programme.
Last month, a theatre show called Corrie! opened at The Lowry in Salford as part of the soap's 50th anniversary celebrations.
In February, EastEnders also broadcast a live episode to mark its 25th anniversary.
More than 16 million people tuned in to watch.