David and Ed Miliband rise to power dramatised on film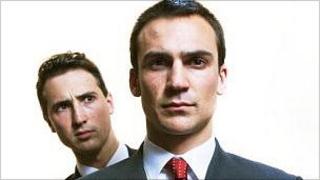 Channel 4 are to screen a film dramatising the rise of Labour party leadership candidates David and Ed Miliband, it has been announced.
Miliband Of Brothers has been scheduled for broadcast on More4 the night before the leadership election results are announced later this month.
Real-life brothers Henry and Ben Lloyd-Hughes will play the Milibands.
The film will also feature interviews with key Labour figures such as Tony Benn and Neil Kinnock.
David Quantick, best known for his work on Harry Hill's TV Burp and Brass Eye, has written the tale of sibling rivalry.
Producers of the film When Boris Met Dave - charting the careers of Boris Johnson and David Cameron - are also behind the Miliband story.
Hamish Mykura, Channel 4's head of documentaries, said: "This is an entertaining film in which the progress of the Miliband brothers is set against the movement of the Labour party away from the firebrand values of the left."
The film will be screened by More4 on 24 September.