Zeta Jones 'furious' over husband's cancer diagnosis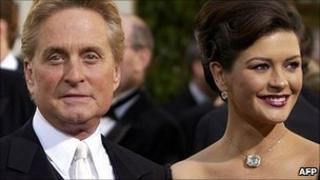 Catherine Zeta Jones has revealed she is "furious" that doctors failed to detect husband Michael Douglas' throat cancer earlier.
In an interview with People magazine, she said: "He sought every option and nothing was found. I knew something was up. He knew something was up."
Douglas, who was diagnosed three weeks ago, has completed his first week of two months' radiation and chemotherapy.
The star said he remains hopeful and has an 80% chance of recovery.
But Zeta Jones said that her husband's chance of survival would have been improved had he been treated sooner.
"It makes me furious they didn't detect it earlier."
The couple have two young children together and Douglas decided to tell them both himself about his illness, Zeta Jones said.
Earlier this week, Douglas told US talk show host David Letterman that a biopsy had revealed he had "stage four cancer", which means the cancer has spread.