Stars poised for Venice Film Festival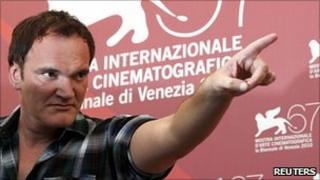 Film stars from Hollywood and around the world are gathering for the start of the 67th Venice Film Festival.
Darren Aronofsky's psychological thriller Black Swan, starring Natalie Portman, will open the gala.
Director Quentin Tarantino heads up this year's jury to determine the awards, including main Golden Lion prize, which Aronofsky won in 2008 for The Wrestler.
Some 79 movies are expected to premiere over the festival's 11-day run.
Tarantino said his time in Venice would be more work than play.
"There's a lot of really exciting movies, it's a fantastic line-up," he told the Reuters news agency.
"I've been on a few juries and I love it. It's a joy to me. But it's work. We're not here for vacation," he added.
The gala is opening with an unprecedented triple-header - after Aronofsky's film will be a screening of Hong Kong director Andrew Lau's The Legend of the Fist: The Return of Chen Zhen, followed by a special midnight screening of Robert Rodriguez's Machete, starring Jessica Alba.
Director Sofia Coppola's comeback movie, Somewhere, is among the 22 movies being shown in competition.
Actor and director Casey Affleck will present his documentary, I'm Still Here, about his brother-in-law actor Joaquin Phoenix's decision to retire in 2008 and reinvent himself as a hip-hop musician.
The festival will close on 11 September with an adaptation of Shakespeare's The Tempest, starring Dame Helen Mirren as a female Prospero, alongside Russell Brand.