London Philharmonic Orchestra fraudster facing jail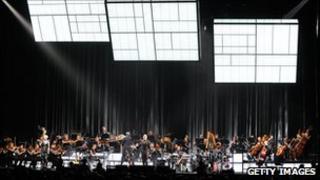 A former financial director of the London Philharmonic Orchestra is likely to be sent to jail after defrauding the organisation out of £645,000.
Cameron Poole, 36, forged signatures to siphon off money for a house extension, jewellery, artwork and flights.
He admitted fraud by abuse of position and acquiring and using criminal property at Southwark Crown Court.
Judge Deborah Taylor said the "most likely outcome" would be a custodial sentence.
He was granted bail and will be sentenced on 28 September.
In February, the High Court ordered Poole to pay the orchestra £2.3m.
At that time, lawyer Andrew Thomas, representing the orchestra, said Poole misused cheques and credit cards and sought to cover his tracks by making false entries in the company's computerised accounting system.
The LPO is one of the major orchestras of the UK, and is based in the Royal Festival Hall.