Grown Ups beat Scott Pilgrim at UK box office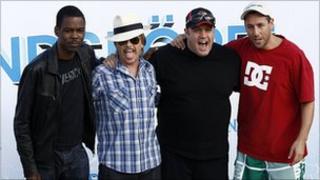 Comedy Grown Ups, starring Adam Sandler and Chris Rock, has entered at the top of the UK and Ireland box office chart.
The film, which follows five former schoolfriends who reunite after 30 years, took £2m between Friday-Sunday.
It beat cult fantasy Scott Pilgrim vs The World, which took £1.6m to enter in second place.
Action extravaganza The Expendables, starring Sylvester Stallone, Jason Statham and Jet Li, dropped from the top spot to number four.